The first thing I decided to plan when we decided to get an Airstream was the decor 🙂
I started out looking for inspiration, and found lots of different style ideas that I saved on my 'Airstream Flying Cloud' Pinterest board. I was really drawn to colors that are calming and peaceful, which (to me) accentuate the light and airy interior of the Flying Cloud models. My first bit of inspiration were these palettes of blues, greens, and corals.
I found a lot of home decor and accents are being made in these colors right now. Including this duvet and cute prints on Etsy:
So I decided to delve into the Navy, Aqua, Coral, and Grey color scheme.
I wanted to see examples of people using these colors in an RV, because I am not a Johanna Gaines type HGTV diva.  Most of the examples where from the International Signature & Serenity lines, which have darker cabinets than the Flying Cloud.
These two are photos from Monica Bennett over at just5moreminutes.com ( I love her blog on Airstream RVing! ). Her scheme has red accents.
Here is an example, again of darker cabinets, from currentlywandering.com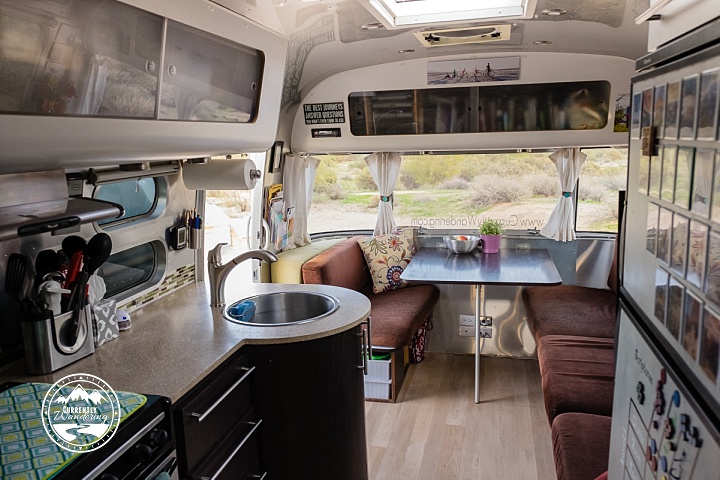 Finally I started seeing the lighter Flying Cloud cabinets, mostly on stock photos.
I also found DIXIE the Airstream photos that have an art deco theme:
I'm kind of over red, and silver is too monochrome for me at this time. I think I'll stick with my coral/blue/green palette. My initial shopping list for decor is:
Clock(s)
Accent Pillows (navy and aqua)
Placemats (silver or grey)
Ikea Magnetic Knife Bar
Magnetic Spice Jars
Soap dispenser and Soap Dish (seaglass aqua)
Hall Rug (suitable for my mastiff)
A few commenters on the Airstream Addicts Facebook group suggested these as ways to fix things to the counters and walls without damage:
Velcro
3M VHB Double-Sided Tape
Comand Hooks (silver)
Color Palette:
Before:
After: